Leading private tutoring company Tutors International has expanded its Asian private tuition operations with the launch of new regional office in Singapore, supporting its existing network of offices in the UK, America, and Asia.
Tutors International today announced it has expanded its operations to Singapore, opening a new regional office in order to best meet growing demand for private tutors in Southeast Asia. The company initially expanded its operations in Asia last year, opening its Hong Kong office in May 2017 to meet a surge in demand from Chinese families seeking private tuition.
Adam Caller, founder of Tutors International, said: "We are thrilled to announce our latest international expansion into Singapore, supporting our growth strategy and our mission to provide bespoke tutoring solutions worldwide. The international tutoring market is exceptionally buoyant at the moment, but we are seeing exponential growth in interest in Asia as awareness of the benefits of private tuition increases. Families are increasingly searching for a flexible and personalised approach to their children's education, and private tuition can address their individual requirements far more effectively than a traditional classroom setting."
The Singapore office will enable Tutors International to offer greater service and peace of mind to families and tutors in the region, drawing on its expertise in international study programmes. Mr Caller added, "It is crucial that Asian students are adequately prepared if they are considering further education overseas, and in our experience there is a great need for Western tutors to provide a crossover for Chinese students who want to study in the UK or US. The flexibility of private tutoring means that families can opt to commit entirely with full-time one-to-one tutoring in their child's desired curriculum, or take a lighter approach and supplement the local curriculum with British or American materials."
Founded in 1999, Tutors International recruits outstanding educators to work as private tutors with families worldwide. It has offices in the UK, America, and Asia, and also offers elite tutoring services at sea through its sister company Sea Tutors.
Mr Caller added: "I have no doubt that our new headquarters in Singapore will enable Tutors International to further our reach into Asia and play a vital role in helping us connect more talented private tutors with Asian families who desire their services."
To find out more about the services offered by Tutors International, both in Asia and internationally, visit tutors-international.com.
[caption id="attachment_17632" align="alignnone" width="300"]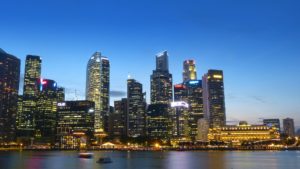 Tutors International opens new office in Singapore[/caption]